2019 Paint Slinger Competition Details – The KIRSH Paint Slinger Shootout is the extension of the Kustom Kulture experience. The artist's palette is the innovative KIRSH CHM-1 DOT-certified half-shell motorcycle helmet. Each helmet features a unique design.
By sponsoring the competition, KIRSH Helmets is supporting the motorcycle industries' painters, illustrators, tattoo artists and artisans to do what they do best, create outstanding works of art.
"Sometimes subtle and reflective, sometimes outrageous and beautiful, but always reflecting our industries' Kulture of transformation, the KIRSH Paint Slinger Shootout art changes you whether you know it or not," explained Joan Simmons, KIRSH Helmets VP Sales and Marketing.
PEOPLE'S CHOICE AWARD
Judging shall be by VIP Judges and KIRSH social media outlets. There will be one winner as determined by a majority of valid votes per contestant. The winner of the People's Choice Award will receive a KIRSH CHM-1. 
Chris Garrison of CG Customs won the People's Choice award combined voting at the ROT Rally competition and online.
2019 Paint Slinger Competition Grand Prize Winner
The "Winning Design" receives $1,000.00 cash prize, (6) helmets of the artist's design reproduced in a limited edition KIRSH CHM-1 helmet, and a private photo shoot with world-renowned photographer, James Patrick Cooper.
The Winner of the 2019 Competition was Jody Perewitz
MOTORCYCLE HELMET PAINTING THE WINNING DESIGN
The judging is comprised of VIP judges, peer judging from artists and custom bike builders convening at the Republic of Texas Rally June 13-16, 2019 in Austin, TX. Management from KIRSH selects the winning design from the top three artists.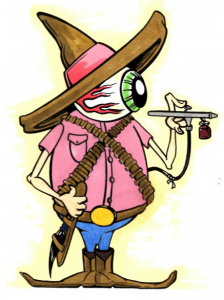 Click here to contact the Paint Slinger Team.