The Paint Slinger Shootout by Simpson Helmets is a Year 1 artist competition produced by Horsepower Marketing to raise the level of awareness of artists in the custom industry.
Pinstripers, painters and tattoo artists all raised their hands to be a part of the Shootout. Each artist received a black retro Simpson M30 Lid as their canvas and each was provided one criterion, make it cool.
2018 Paint Slinger Shootout Awards – So, the artists went to work for the sheer joy to create a masterpiece as well as for the $1,000 check and to see their design on an exclusive limited run of Simpson helmets. The winner also gets a 6-pack of lids with their design and a trip to Bornfree where he will be in the Simpson booth autographing their helmet.
"Over the last 7 years my team and I have handed out over $1 Million in cash and prizes in custom bike shows," explained Jeff Najar, Biker Pros partner. "That's why when you come to a J&P Cycles Ultimate Builder Show, Championship of America show or a Kustom Kulture Artisan Show, you see great bikes. Builders and custom bike owners revel in the competition. We are looking to take that format to promote artists."
The lids were arranged in the middle of the Championship of Americas competition at the Custom Culture powered by BMW Motorcycles area so custom enthusiasts could look at the designs from every angle.
On Sunday September 24, 2017 Scott Holbrook from Simpson selected the winner from 5 finalists. The TOP 5 were selected from a VIP Panel of Judges and from People's Choice. The TOP 5 include:
All the artists were deserving but in the end, there could only be one winner. Kentucky's own Kacey Elkins of Krossover Customs took the win with his lovely white, gold and striped helmet.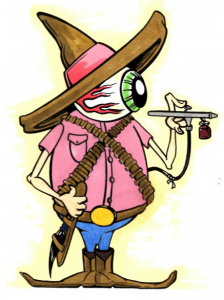 Click here to contact the Paint Slinger Team.